First-Time
Skydiving Pricing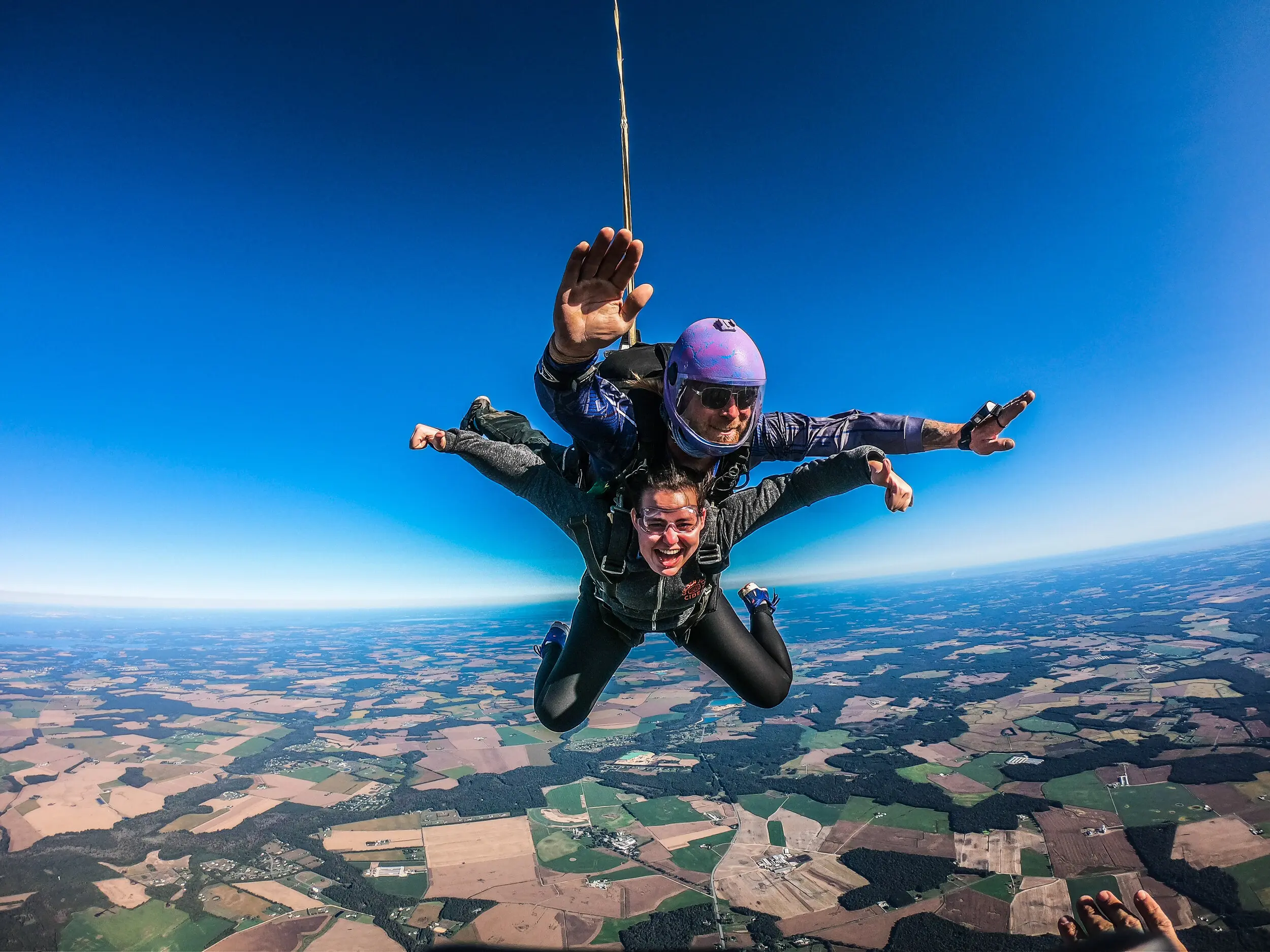 Jump with us from 13,500 ft.
With this much free fall you will have the time to regain your senses and truly appreciate the awesomeness of the particular situation you have found yourself in. When the plane reaches altitude you and your instructor will exit the aircraft and free fall for about 60 seconds at 120 mph.
WEEKDAY TANDEM PRICE: $230
WEEKEND TANDEM PRICE: $250
PHOTO & VIDEO PACKAGES: PROOF OR IT DIDN'T HAPPEN!
Your videographer captures every moment of your skydive, collecting interviews and footage on the ground and in the plane. As you exit the plane our videographer is right there with you in freefall, offering an amazing insight and visual experience into the world of skydiving! An experience you can relive with your family and friends over and over.
The Video Package Contains a 5-8 minute video production of your skydive from exit to opening. Additional footage may include the aircraft, takeoff, canopy shots, and landings amongst other phases of the experience. The whole production is set to a soundtrack for your enhanced enjoyment. Photographs are taken throughout your skydive, around 150 in all. Having both the video and the still pictures allows you to relive the thrill of your skydiving adventure, wherever you may be!
Video and Still Photo Package: $145
"If it's not on video, it didn't happen!" Don't settle for less, walk away with a masterfully edited video to go along with your photos!
BOOKING YOUR TANDEM SKYDIVE IS SIMPLE!
View our availability & scheduling calendar CLICK HERE
Pick a day and time you'd like to reserve your tandem skydive.

Please note that the time you select is your arrival time, NOT your jump time
Plan to spend at least 2 hours with us for training and unforeseen weather issues

Reserve your time with a $50 deposit
The remaining balance will be due upon arrival for your skydive!
FAQs & RESOURCES
WEEKENDS: We are currently open Saturday and Sunday for the winter
WEEKDAYS: We are open weekdays upon request. Contact us if you would like to reserve a weekday tandem for you or your group.
LOCATION: We are located at 24030 Race Track Rd, Ridgely, MD 21660
ONLINE RESERVATIONS: Online reservations are highly encouraged to ensure you have the best experience possible!

The reservation time you make is for your ARRIVAL time. Please plan to arrive at least 15 minutes prior to your reservation time so we can properly check you in.
We only charge a $50 deposit for your online reservation. The remainder is due upon arrival.
WALK-INS: Walk-ins are welcome! But give us a call prior to arriving so we can ensure we provide you with the best service possible. Our phone number is (201) 477-0525
PRIVATE PLANES & PRIVATE TANDEMS: We practice all Maryland state social distancing guidelines, and you are welcome to have the opportunity to reserve a private plane for yourself or for your group for a con-tactless experience. CONTACT US for pricing and availability!
CANCELLATIONS: In the event of weather related cancellations, deposits can be transferred to another date with no penalties. Otherwise deposits are NON-REFUNDABLE.